Category Archives:
Equipment
I've added the Concept2 Dynamic Erg to my home gym.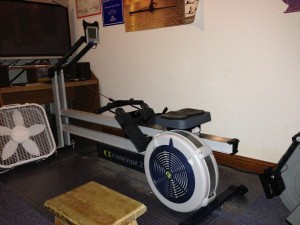 First Impressions (based on my inaugural 10 km row):
As designed, the rowing stroke involves virtually no movement of the rower's center of gravity. This is the biggest change from the traditional C2 indoor rower and is the basis of its design. This has several advantages:

Ability to row at higher rates (32 spm compared with 26 spm).
Less stress at the catch as you start the drive.
Ability to push hard through the finish without 'anticipating' the finish.

Because the rower no longer generates momentum moving toward the catch, compression (reach) is less pronounced and more closely approximates on the water rowing.
More to come.
On Saturday, May 12, 2012, I took delivery of a custom-made 2012 Vespoli Matrix 26 1x at the Dad Vail Regatta in Philadelphia, PA. It was transported back to Charleston along with the University of Charleston Women's Crew and is now rigged and stored in the UC Boathouse.
I've taken the boat out on the Kanawha River twice and am working on tweaking the rigging. It is clear that the boat is very responsive, quick, and much more forgiving than my old 1995 model Vespoli 1x. The hull shape is wider at the cockpit and narrower in both the bow and stern sections. This lowers my center of gravity and makes the boat much more stable.